By now we've established that being a blogger inevitably means that you need to be comfy with letting your fingers dance across the keyboard. You may either use the Columbus method (you discover a key and land on it)
or
the trusty 10-finger-method. Me? Don't mean to brag, but I'm using three fingers to discover keys like an explorer with a premonition.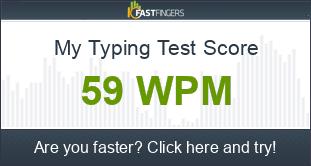 Let me tell you I have no idea whether this is a good result or not. I'm obviously a whole lot faster when just typing away my own random thoughts compared to the weird combination of words you need to type in this particular test.
So what's a curious mind to do? Find a site that offers a text that makes a wee bit more sense, of course! On
Typing Test
you can choose not only the language (I took English), the length of the test (I picked 1 minute), and different excerpts (I went for
The Wizard of Oz
). Now let's fess up and share what my result was here ...
Now that's not bad, isn't it? And as it turns out the results are pretty similar too.
How about yourself? Ready to test just how speedy your fingers fly over the keyboard? Please feel free to share your results.